Internal Planting
Plants bring life and vibrancy into any environment, they can transform even the most mediocre space into something unique and beautiful. Whether its free standing plants, or cabinet top plants to large flower walls and displays OUTCO are here to help.
Enhancing your internal space
Breathe new life into your office with the installation of the right plants, forming a key element of your office design. Biophilic design, the use of natural elements such as plants in your workplace,  has been proven to enhance the health and wellbeing of the workforce, maximising performance and productivity at work.
With most offices occupying vast areas and floor space, businesses have an opportunity to enhance the aesthetic environment and wellbeing of their employees.
Positioned in locations such as reception and waiting areas, break-out areas, open spaces and desked areas planting provides natural spaces, green barriers and promotes a cleaner environment as we feel a connection to nature.
The Department of Horticulture, Recreation and Forestry said
It is scientifically proven that being near plants is good for our mental and physical wellbeing
How OUTCO can assist with your internal spaces
Desktop Planting
Plants bring life to all types of space, desktop plant displays are a simple way to add vibrant planting to areas within an internal workspace such as small meeting rooms. Locations that have less space available for alternate large planters can still provide a vibrant, green, back to nature feel with the addition of desktop plants. Even adding a small amount of interior office planting can help to boost the health and wellbeing of your staff, by reducing stress levels and absenteeism.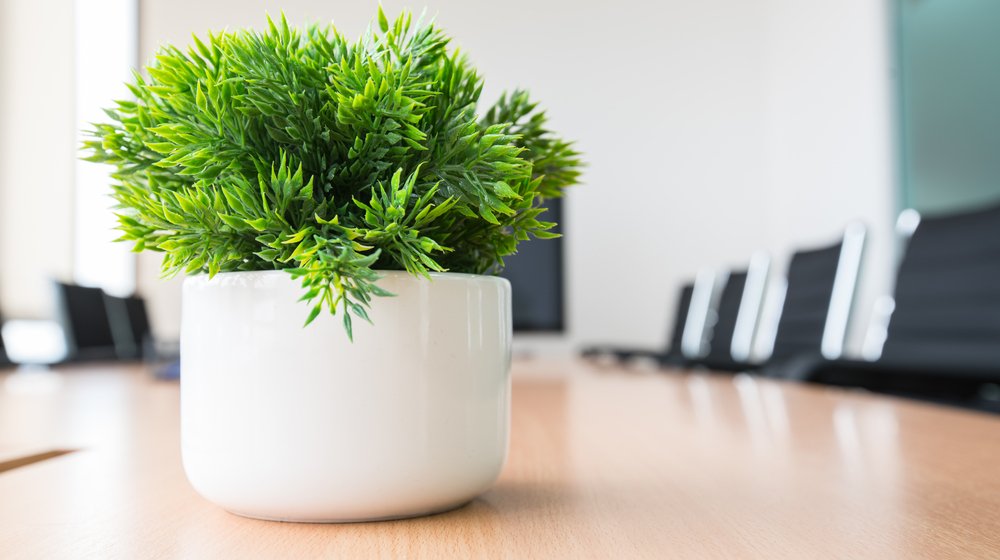 Floor standing planting
Standing plant displays are a fantastic way to create a green feel throughout an internal space. There is a huge range of different indoor office planters and plants available, our expert design team can help create the most suited design for your space, this can incorporate plants with your brand colours for example.
Green Walls
Literally bring a wall to life by creating a stunning green wall. Not only do they look impressive, living walls are very effective in improving air quality due to the planting that is used. The wall panels are installed fully planted for instant visual impact.
Green Dividers
Plants are a great tool to absorb noise, OUTCO have utilised this tool in the creation of green dividers for internal spaces. A green wall to separate and demarcate meeting areas in the workplace, this can include an area within an open office for the separate tables in a canteen for example.
Decorative raised planting / cabinet top planting
How many of us really utilise all the desktop space in our offices? One of the latest trends in interior planting are cabinet tops. These are great space-efficient planters that make use of otherwise wasted space on top of filing cabinets. They're also a great way of stopping clutter from building up on the cabinets. They can be used to divide up open offices, which helps to give people a feeling of privacy and a sense of their own space.
A report by the University of Exeter showed productivity jump by 15% when just a 'handful' of houseplants were installed into an office.
Seven key benefits of having plants in your office
Help to reduce stress, anxiety and fatigue a recent report found
Help increase productivity
Create a more attractive and welcoming environment
Help to reduce sickness and absence
Plants clean the air we breath
Help to reduce noise levels by absorbing sound
They can boost creativity
Outside spaces provide fresh, clean air and opportunities to socialise in safe open areas. Creating the right environment for employees can promote a healthier, happier workforce, encouraging employees to socialise and return to the workplace.
As companies re-open their offices and begin to welcome more staff back into the workplace, we're pleased that business leaders are recognising the benefits of better utilising their outdoor and green spaces. How prepared are you for the office of the future?
Talk to OUTCO today to discuss how we can enhance your internal space
Contact OUTCO today by phone 0800 230 0215
Or complete our enquiry form by clicking the link below